EKLIGHT Factory


EKLIGHT® is the leader of auto lighting in China,more than 3000 square meters of ISO 9001 & 2008 factory building, All of products are passed E-MARK and DOT authentication and 100% fit for original car standard, after 10 years, EKLIGHT becomes famous brand all over the world. Over the years, we have always adhered to the principle of "With an open, innovative, mutual trust, and win-win style, our
company has created a precedent in auto lighting.

At present, our products have successfully entered the market of Europe and the United States, South Korea and Japan, Southeast Asia, South Africa, North Africa, the Middle East..

We have more than 15 professional auto lighting designer,and at the same time,we set up marketing and research & department in Europe and Korea, Keep EKLIGHT products design in the leading level. In production line,more than 100 workers for producing LED,HID products, All products are domestic and international industry standards and strict implementation of ISO quality management system
for 100% quality control.

We believe that hard-working, honesty, teamwork, and the spirit of innovation will surely lead us progress towards modern science and technology and internationalization, and make the EKLIGHT become a globally competitive strong brand.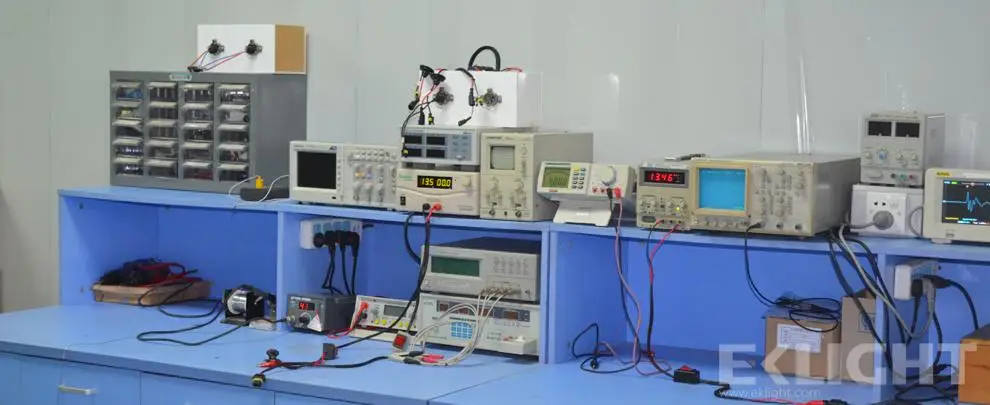 EKLIGHT® own different test machines to design exact accurate parameter for our products. For example, like output igniter voltage test, EMC test, power watt test, impulse current test ...etc.
Automatic glue-pouring Machine. Ensure hid ballast 100% waterproof.
This automatic glue-pouring machine is able to help glue each ballast much better than by hand. All EKLIGHT® smart ballast could be glued with all components inside, making sure 100% waterproof to fit different complicated working environment.
Laser Machine.
EKLIGHT will help you laser your brand trademark on different products. Like on led headlight bulb/lamp, canbus hid xenon ballast, smart canbus ballast , DRL led, as well as brake led, turning led (1156, T20, T10 led bulb).

TEST



Low temperature age testing
EKLIGHT® smart ballast is able to work properly during -40℃. Most other cheap ballasts only can do -15℃ at most. So from above test report, we know EKLIGHT hid xenon ballast is fit most cold temp. country like Russia, Sweden ...etc. And you will never worry about any environment that will effect hid kit performance.


Power Watt testing
EKLIGHT® ensure each ballast with real power of 35-38W. The more powerfull watt will help drivers to have bigger brightness when drive on the road. If you like more brightness at 35W hid kit, I'm sure EKLIGHT ballasts will be your best choice.
Output Igniter voltage testing.
EKLIGHT® hid canbus pro ballast is able to supply 23600V high voltage to the bulbs. With high igniter voltage, our ballast can fit all different quality hid bulbs, even very old bulbs still can light up well with EKLIGHT® ballasts. Most other companies ballasts only 18000V, though it also can light up some cheap bulbs. the brightness is weak, and has risk of make bulbs light off sometimes. it is dangerous.
We're sure with EKLIGHT® brand top quality products. Your business will becomes better and better, your brand will be more and more famous in the world. Let's work together, we supply excellent service, top quality, as well as most important is EKLIGHT® unique professional technolody and innovation idea.